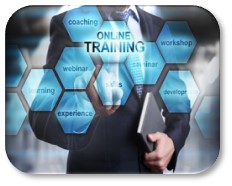 Innovative Training and Development Application
An interactive and engaging knowledge assessment platform developed for modern learning behaviours which consists of the following key features:
Allows supervisors to manage relevant content.
Mixes entertaining gameplay with learning questions.
Localised ecosystem with training and support.
Gives access to internal and external knowledge to support Knowledge Management on all levels.
This integrated application is for the constant learning needs of employees by transferring knowledge in a microlearning format and distributing repeatable practical information.
Communities or learners and practitioners manage content by themselves and share learning material in an easily adaptable, mobile and gamified ways that ensures that the right person gets the right information, at the right time, in the right format.
Basic learning need repetition as we all forget. Mobile technology can be our reminder – like a fitness tracker – to memorize important basics and to build a foundation for creativity, innovation and further learning.
Mobile Application

A mobile quiz / game that mixes general content from the application's database with individual content provided by Institutions or other learning sources.
Learning Manager
A tool for supervisors to manage course content, track and monitor staff / students' knowledge and learning curves.
Today's Learning Environment
Learners today do not adapt to traditional training methods. Current e-learning is not completely adapted and content has to be assessed, evaluated and repeated to increase efficiency of learning and memorization. Face to face training is often not reinforced and evaluated.

Encourages higher learner engagement.
Provides increased individualized attention.
Promotes interaction and collaboration skills.
Improves employees performance through to better memorization.
Makes learning central, rather than teaching.
Helps trainers to standardize the content and combine curriculum and company training plans.
Save costs and make training more efficient.
Industry 4.0 Compliance
This application is aligned to Learning 4.0 framework on the digitisation of training and development, which is a core component of IR 4.0.
Creating new knowledge by using technology in real time environments.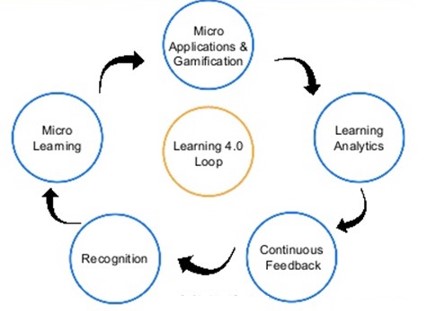 Adaptable to ALL Industries
This application is suitable for a wide range of industries particularly the services industries where there are multiple branch locations in which centralised class room based training and retraining of compliances, regulations, SOPS, product as well as knowledge based training.

Mobile Application - Question Based Assessment
Combining trivia questions and learning creates a simple mobile flow from even complex knowledge — making people more productive, motivated, and always connected to the information.
Focus on efficiency - Increase productivity and cost-efficiency by training faster and better wherever you are.
Engage everyone - Capture the attention of millennial learners and new learning needs with engaging content.
Compressed knowledge - Break your complex product and service knowledge into small digestible pieces.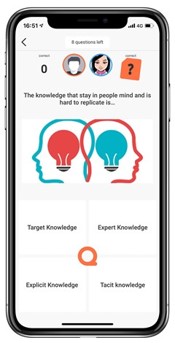 Mobile Application - Question Review
Offer explanations to questions and answers after each game, or point learners to any source that is available online.
The right information - In the right format.
At the right time - To the right person.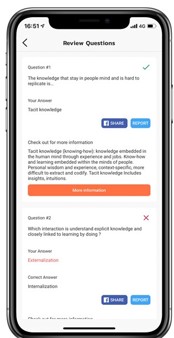 Mobile Application - Addressing Knowledge Gaps
The application notifies employees in real-time directly on their smartphones for news and important information. At the same time, we store all usage metrics for trainers to see what employees know and what they do not know — allowing trainers to address any knowledge gaps before it's too late.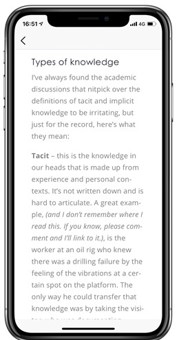 Desktop Application - Learning Manager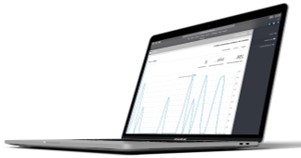 The learning manager components manages the following areas:
Manage topics and content.
Introduce sources to all questions.
Share content with other supervisors.
View statistics of learners in real time.
Push notifications to learners.